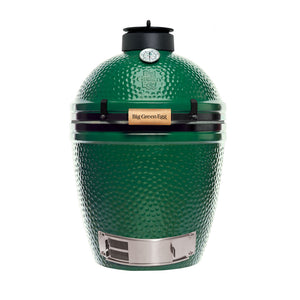 Big Green Egg Medium
Big Green Egg items are prohibited from online sale and will appear SOLD OUT, however, we encourage you to call (301)829-4008 to place an Order for Curbside Pickup!
Happiness in a smaller package!  The Medium Big Green Egg is perfectly sized for smaller families and couples. It accommodates all the most popular EGGcessories like the convEGGtor and Pizza & Baking Stone. You can get all the famous Big Green Egg versatility and efficiency with plenty of cooking area to accommodate a cookout of four steaks or two whole chickens.
Specifications
Grid Diameter: 15 in / 38 cm
Cooking Area: 177 sq in / 1140 sq cm
Weight: 114 lbs / 52 kgs
The Medium EGG can cook
18-pound turkey
6 burgers
3 chickens vertically
4 steaks
4 racks of ribs vertically