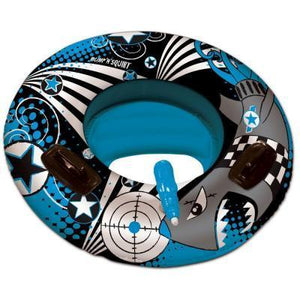 Bump N' Squirt Pool Tube
Bump 'N' Squirt Tubes are ready for fun with easy to use water guns attached to the tube and fed by a constant supply of water from your swimming pool. The tube has an inflatable seat and plenty of room for you legs to hang down in the pool to kick and move freely during a bumping battle or to attack and retreat during a water gun fight. Dual handle grips provide support during movement and the Bump and Squirt tubes are durable enough to withstand rough play. Made of heavy duty 14 gauge vinyl and are recommended for ages 8 years and older.
Bump 'N' Squirt Features:
Easy-to-use water gun attaches to the tube.
Feeder line for continuous water supply to the water gun.
Seat inflates separately from the tube and allows legs to kick freely.
Dual handle grips provide support.
Durable enough to withstand rough water play.
Dimensions: 42" Diameter