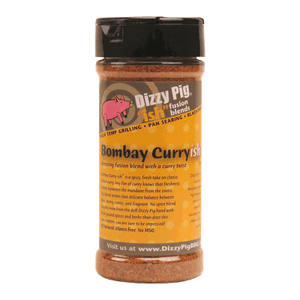 Dizzy Pig Bombay Curryish Seasoning (8 OZ Shaker Bottle)
Who doesn't love a good curry? In our experience, the answer is "basically no one," though if that person is you … we respect your tastes. For everyone else, Bombay Curry-ish might just be the seasoning you've been looking for your entire life. This spice blend relies on classic Indian flavors such as turmeric, coriander and fenugreek, and makes the perfect accompaniment to chicken curry, coconut curry, vegetarian curry and more.
Medium heat, robust but balanced spice flavors, tangy and earthy notes all combine for a balanced flavor and a versatile rub. We like to say this blend is a like a journey, a carnival that offers different flavor notes at different times. After all, why should dining ever be a one-dimensional experience? We contend it shouldn't have to be, and with Bombay Curry-ish at your side, it isn't.
INGREDIENTS:
Spices
Salt
Garlic
Paprika
Turmeric
ALLERGENS
Bombay Curry-ish™ contains none of the top ten listed allergens. Contains chiles, onion and garlic (which some folks have sensitivities to.)