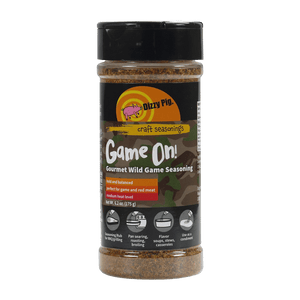 Dizzy Pig Game On Seasoning (8 OZ Shaker Bottle)
Game meat is best when cooked simply, and not overcooked, and Game On! is the perfect complement. It works not just for duck, elk and other wild game, but also for meaty mushrooms such as Portobello, as well as pork, beef and similar richly flavored meats. This medium-heat spice rub is specifically designed to provide complete flavoring for game meat without the need for long marination time.
Earthy overtones from chilies and coffee, bright gingery notes and a light pepper flavor make Game On! the ideal accompaniment to your freezer stocked with venison. It's perfect not just in hunting season, but all year long. We've found there's nothing tastier than a venison backstrap rubbed down well and seared with the perfect crusty flavor. Ditto burgers, short ribs and beef brisket, all of which benefit from the one-two punch of coffee and ginger. Don't wait to see for yourself.
INGREDIENTS:
Salt
Spices
Demerara sugar
Coffee
Chiles
Paprika
Garlic
Onion
ALLERGENS
Game On™ contains none of the top ten listed allergens. Contains chiles, onion and garlic (which some folks have sensitivities to.)