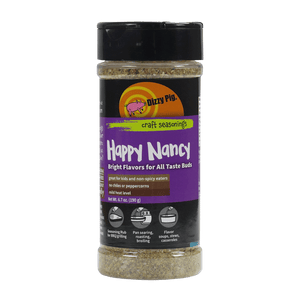 Dizzy Pig Happy Nancy Seasoning (8 OZ Shaker Bottle)
It turns out not everyone loves that kick in the mouth Dizzy Pig is known for. Our friend Nancy was one such person, and upon discovering that she was sensitive to peppercorns and chilies, Chris got right to work whipping up a delectable rub without the spicier side of life.
A tangy, floral, lightly sweet and rounded flavor, Happy Nancy is the solution to more delicate palates. If you love to grill, sear, roast or otherwise serve up meat, fish and veggies, but have a less heat-tolerant crowd to please, we've got you covered. It's a favorite on poultry, seafood, lean pork, teriyaki dishes, vegetables and even breads. With no peppercorns or chilies, but enough flavor to retain interest in even the most hardened spice-lover, you can rely on its mild sweetness to appeal to all. This kid friendly mild seasoning option is a win all around.
INGREDIENTS:
Demerara sugar
Spices
Salt
Garlic
Orange peel
ALLERGENS
Happy Nancy™ contains none of the top ten listed allergens. Contains celery seed and garlic (which some folks have sensitivities to.)