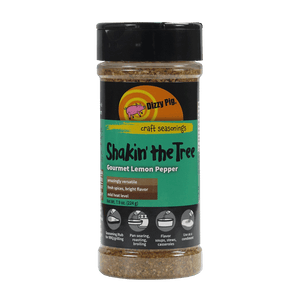 Dizzy Pig Shakin' the Tree Seasoning (7.9 OZ Shaker Bottle)
The name sums it up: Shakin' the Tree is Dizzy Pig's answer to foods that need that fresh zingy flavor and cooks who want to get it without squeezing three pounds of lemons to do so. We bring you the true, tangy flavor of citrus in this rub, courtesy of real lemon zest rather than the boring, standard dehydrated juice so common today. If you've been looking for a gourmet lemon pepper rub, you now have a kitchen soulmate for life.
Sharp and citrusy, Shakin' the Tree is balanced enough to complement milder cuts of meat – chicken, scallops, pork tenderloin, shrimp and fish – and flavorful enough to dress up asparagus and broccoli in high style. With bright lemon notes and coriander goodness, and a flavor profile calculated to appeal to almost everyone, this seasoning is simply too versatile NOT to have in your pantry.
INGREDIENTS:
Spices
Salt
Demerara sugar
Pepper
Lemon Peel
Onion
Garlic
ALLERGENS
Shakin' the Tree™ contains none of the top ten listed allergens. Contains chiles, celery seed, onion and garlic (which some folks have sensitivities to.)